Get in touch today to discuss the most suitable mortgage option for you.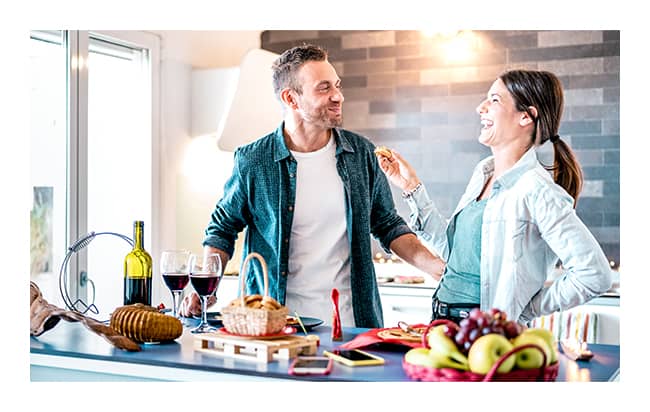 []
keyboard_arrow_leftPrevious
Nextkeyboard_arrow_right
What is remortgaging?
Remortgaging is the term that is typically used when changing your existing mortgage deal and can be done for a number of reasons. This could simply be to secure a better mortgage deal. However, you may have decided that you want to borrow more money for a specific reason. The process often involves changing Mortgage Lenders, but this is not always the case as sometimes a new deal with your existing lender may be the best choice. Taking a new product with your existing lender is known as a product transfer. Here at Fifty Nine Financial, we can help you make the best choice, based on your individual circumstances.
Is remortgaging complicated?
Remortgaging should be simpler than your initial purchase. There is no chain to deal with, which means that delays are less common as you already own the home. The most complex aspect of remortgaging is ensuring you find the right deal. Our team will be happy to do the hard work for you in finding the most competitive deal, which means that your part is fairly easy.
How long does a remortgage take?
This can vary quite dramatically, based on a number of factors. The credit rating and financial circumstances of the applicant can be a major influence on how quickly a remortgage application can be processed.
Other things that can affect the speed of a remortgage could include the mortgage valuation. Some lenders are able to offer remote 'desktop valuations' where no physical visit is required. This is not the case with all lenders so if time is critical this can be a very important consideration.
We would advise that the best time to speak to us about remortgaging would be three months prior to the end of your current mortgage deal. This should allow ample time for the new deal to be in place before your current one ends.
When to consider a remortgage
When considering a remortgage, the most important thing is timing. The best time to remortgage is when your personal circumstances allow you to benefit most, such as in the below situations:
Your current mortgage deal is ending soon
Once the introductory period of your current mortgage deal ends, you automatically revert to your lender's Standard Variable Rate of interest. This will normally increase your monthly payments immediately as the lender's Standard Variable Rate is typically a much higher interest rate.
Bank of England base rates are rumoured to be rising
Although the UK base rate is currently very low, a rise is always possible. If you're not on a fixed-rate deal, your repayments may follow the Bank of England base rate, so it's a good idea to monitor it for fluctuations.
Your property value has increased dramatically
When you have a significant rise in the value of your property, this reduces the Loan to Value ratio of your borrowing. Lower Loan to Value mortgages offer more competitive interest rates, so you could potentially save money by remortgaging in these circumstances.
Your mortgage terms don't allow for overpayments
If you're able to afford to make overpayments, you can potentially pay off your mortgage earlier, saving the overall amount of interest over the mortgage term. If the terms and conditions of your mortgage prohibit overpayments, you may benefit from remortgaging with a lender who does offer this facility. Your current mortgage may have large exit penalties if you leave early, so this should be weighed up against any potential benefits of changing mortgage lender.
You want to borrow more money
Remortgaging can sometimes be a good way to borrow more money. There are many different reasons why you may need a little extra, you could be planning home improvements, looking to pay off your debts or you may need a deposit for a Buy to Let property.
You want to change your repayment method
If you want to change from an Interest-only to a repayment mortgage, your existing mortgage lender may accommodate this type of change under your current mortgage. However, this may be subject to a new affordability assessment, and possibly a change of mortgage product. Therefore, it is advisable to consider all of your options. We will be happy to discuss this with you, to ensure you choose the most beneficial outcome.
When not to consider a remortgage to a new lender
You have high early exit or repayment fees
When you remortgage there may be an early repayment charge in order to leave your current mortgage deal early. Depending on the reason and the timing of the remortgage, any early repayment charge should be factored into the overall cost consideration.
Your remaining debt is very small
If you don't owe any more than £50,000 on your current mortgage, unless you are looking to borrow any additional money, it's unlikely that you will benefit from remortgaging to a new lender as the fees would likely outweigh the potential savings at this point. However, your mortgage advisor will be able to compare all the options for you.
Your financial circumstances have declined
A remortgage requires a similar application process as a standard mortgage application, so if you're in a worse financial position now, or have had any recent credit related problems, this may impact your ability to get a new mortgage agreed. If your circumstances have changed and you need to remortgage, it may be helpful to speak to a mortgage broker to establish your options.
You have low or negative equity in your property
Negative equity occurs when you owe more than the current value of your home. This can be due to a crash in the market or if you fall into arrears with your monthly repayments. Most mortgage lenders will require at least 10% of equity to consider a remortgage application.
Are there other options if I can't remortgage?
If you're unable to remortgage for any of the reasons above, it may still be possible to do a product transfer with your current lender in some circumstances. Whilst this is not always the case, most lenders do not require additional affordability or credit checks for product transfers, which may mean it's a more viable option.
You are unlikely to pay an exit fee in order to transfer to another mortgage product with the same lender either, so if high exit fees are an issue, this also offers another option. We can tailor our advice more specifically to you, once we know your current circumstances.
What fees are associated with a remortgage?
As the mortgage application process is similar to that of a purchase mortgage, a remortgage application can incur similar fees, such as arrangement fees, booking and legal fees and potentially additional valuation fees.
Additional deposit is not normally required as the equity in your property is the deposit when remortgaging. However, if you do have more money to put in this may help you to obtain an improved remortgage deal if you have limited equity available in your current home.
What will happen if I don't remortgage?
If you choose not to remortgage then the result will be an increase in your mortgage repayments, as a result of transferring to the lender's Standard Variable Rate. Whilst there is no requirement to remortgage, there are very few circumstances where finding a better deal wouldn't benefit you, once your existing mortgage deal ends.
If you are delaying remortgaging as you're reluctant to commit to another deal, it's important to consider that the majority of the remortgage deals are portable. We will be able to advise you based on your individual circumstances, but there are not many circumstances where remaining on a Standard Variable Rate will benefit you.
How can Fifty Nine Financial help?
Fifty Nine Financial are whole-of-market specialist Mortgage Brokers. We have access to a broad spectrum of mortgage products available across the independent mortgage market. We will ensure you choose the best time to consider a remortgage based on your individual circumstances and current mortgage status, allowing us to find mortgage lenders who offer the most competitive deals for those circumstances.
No matter how complex your situation is or even if you've been declined for a previous mortgage or remortgage application, getting in touch is still worthwhile. Not all mortgage lenders have the same criteria, and our advanced market knowledge will help us to find those niche lenders who will be willing to look at your application.
YOUR HOME MAY BE REPOSSESSED IF YOU DO NOT KEEP UP REPAYMENTS ON YOUR MORTGAGE.

Why Fifty Nine Financial?